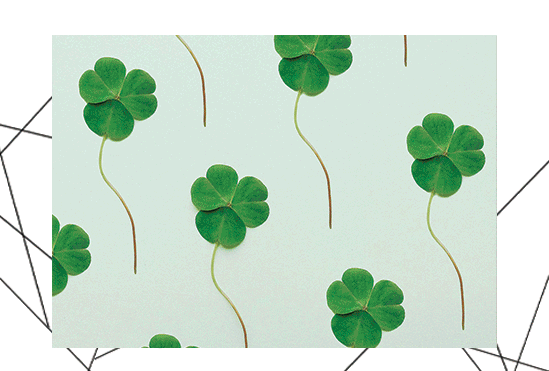 March 14, 2023
Volume 4, Edition 2
Getting Media Coverage Takes More Than Luck
If you're looking to have your story covered by journalists, it's time to ditch the four-leaf clover and develop a solid communications strategy.
Here are some winning tips from our Director, 
Sarah Hoodspith
 who leads many of Zenergy's  PR campaigns:
Identify appropriate outlets and journalists. Do your research!
Choose your timing. Deliver pitches in a timely manner but be mindful of bad timing.
Adapt based on your audience. Adjust your content to make it relevant for each target segment and their audience.
Spend time on the top tier. Take the time to write a personalized message to key media and explain why you're reaching out to them by suggesting story ideas, interview opportunities, etc.
Follow up, but don't be pushy.
Zenergy's PR team has developed media outreach strategies for all sorts of industries from high-end fashion and spirits to manufacturers and technology. Here's a snapshot of our 2022 PR campaign initiatives:
Executed in 4 languages.
Reached more than 1 billion people.
Featured on TV, video, radio, podcasts, print, and digital platforms.
#Poll: Where are you putting most of your efforts when it comes to your content marketing?
Take the poll 
What We're Reading
Please share what you're reading by tweeting #FGFreads or DM us.
Content Development… Don't Chance It!

Content marketing can include blogs, newsletters, press releases, social media, eblasts, etc. No matter the format, make sure that your content tells a story, ensures brand positioning, and supports marketing and sales efforts.
Here are a few quick tips:
Establish goals – what are you looking to achieve?
Develop strategy and key messages.
Identify your target audience.
Select the content format(s).
Craft actual content.
Establish a budget to promote your content, if applicable.
Map out distribution timelines.
Distribute content.
Track your results.
#DidYouKnow: Think Big, Shop Small
Over the past few months, we've been working hard alongside our partner Retail Strategies to develop a module for small business owners looking to develop their marketing strategies and expertise. The module is called 'Retail Through the Lens of Omni-Channel', and over the course of one webinar and six subsequent sessions, Zenergy team members cover everything retailers need to know so that they may effectively leverage today's digital and social media environments. We look forward to continuing to grow this partnership with Retail Strategies and help small business owners across North America thrive. For more information, 
click here
!
De-Influencing and Gen Z
Gen Z is a consumer segment (born between 1995 and 2012) that wants to make more intentional and sustainable purchases. Given this, they have a greater interest in content developed by de-influencers – social media influencers promoting what they do not recommend. Examples include Sephora employees posting about beauty products not to buy and trade influencers sharing the types of materials they don't recommend.
To address this, companies wishing to target Gen Z are recommended to focus on multiple micro- or nano-influencers who present products in a more authentic manner rather than a larger 'bought and paid for' influencer. Compared to mega-influencers, micro- and nano-influencers often have higher engagement rates and greater authenticity, driving better results and stronger return on investment.
#FunFact: In general, marketers categorize influencers into three groups:
Mega-influencers: 100k+ followers
Micro-influencers: 10k to 100k followers
Nano-influencers: 1k to 10k followers
#FGStory: Watch How Contents Moved Over 100 Million Years
The last 100 million years of continental movement have recently been calculated by scientists and illustrated in a 23-second video, to an astonishing 10-kilometer resolution. Watch the video above to learn how our world came to be.
Took a photo that you are proud of?
Send it
along and our team will select amongst those submitted to be featured in our next newsletter.
Wishing all our readers a lucky St. Patrick's Day!