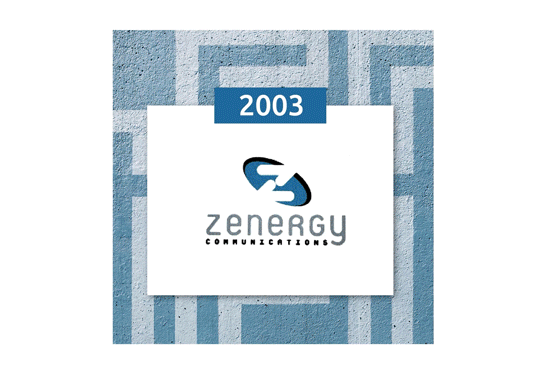 May 9, 2023
Volume 6, Edition 2
#ZenergyNews: Brand Evolution
As we celebrate our 20th anniversary this year, the idea of brand evolution came to mind. While for Zenergy it's in response to celebrating a milestone, the need to evolve can be as a result of changing market conditions, consumer preferences, industry trends, and much more. Rebranding involves a strategic blend of innovation, consistency, and authenticity, in order to maintain relevance and capture new audiences while staying true to core values. From subtle logo modifications to complete brand overhauls, the evolution of a brand encompasses visual identity, messaging, product/service offerings, and customer experience. It is a continuous journey of growth and adaptation, enabling brands to forge deeper connections with their target market and remain competitive in a rapidly evolving business landscape.
Congratulations to our client Uniboard on their 40th anniversary. They highlighted this milestone with a logo modification created by our design team!
#ProInsights: Website Design Best Practices
Here are seven website design best practices from Zenergy's Senior Art Director, 
Shehla Shahid
, that can lead to increased engagement, longer site visits, and higher conversion rates.
Ensure that your website matches your brand's visual identity.
Make sure that your site is responsive.
Design an easy-to-use navigation menu.
Develop content that elaborates concise messaging.
Be consistent with the design throughout the site.
Encourage engagement with strategic call to actions.
Optimize the site for search engines.
#ClientNews: Larochelle Groupe Conseil Achieves B Corp Certification
Larochelle Groupe Conseil
, a Quebec-based consulting firm specializing in data enhancement and digital transformation, turned to Zenergy's team of content developers and PR specialists when they were ready to announce that they had received B Corporation
TM
 (B Corp
TM
) certification. The B Corp certification, administered by B Lab
TM
, is a designation indicating that a business has met high standards of verified performance, accountability, and transparency in governance, human resource management, community involvement, respect for the environment and its relationship with its customers.
Zenergy's PR outreach initiatives resulted in Larochelle Groupe Conseil being featured in La Presse, Ad Week, trade associations, and IT digital media.
What We're Reading + Listening To
Please share what you're reading by tweeting #FGFreads or DM us.
#ProInsights: Marketing Transformations

Beyond the brand, nearly all aspects of marketing-communications go through some form of transformation. Here are some of the most popular themes that will drive change:
Digital Transformation: Analyzing marketing strategies and operations to embrace digital platforms, technologies, and channels to reach and engage with customers in a digital-first world.
Customer Journey Mapping: Examining the evolution of customer journey mapping techniques to better understand customer behaviors, preferences, and touchpoints across various channels and devices.
Personalization and Customization: Investigating marketing efforts to deliver more personalized and customized experiences to consumers, leveraging data, AI, and automation technologies to tailor messaging, offers, and recommendations.
Sustainability and Corporate Social Responsibility (CSR): Incorporating sustainability and CSR initiatives into marketing strategies, responding to growing consumer demand for environmentally friendly and socially responsible practices.
Influencer Marketing: Tracking influencer marketing and leveraging influencers to connect with target audience, build brand awareness, and drive engagement.
Content Marketing: Analyzing content marketing strategies, including the shift from traditional advertising to storytelling and creating valuable, informative, and engaging content that resonate.
Data-Driven Marketing: Embracing data analytics and insights to make more informed marketing decisions, optimize campaigns, personalize experiences, and measure performance more effectively.
Brand Loyalty and Advocacy: Investigating approaches to fostering brand loyalty and advocacy, including loyalty programs, referral programs, and user-generated content strategies.
Experiential Marketing: Incorporating immersive and interactive experiences, events, and activations to create memorable brand moments and forge deeper connections.
Brand Reinvention: Exploring the strategies and tactics employed by brands to reinvent themselves in response to changing consumer demands, market dynamics, or shifts in industry trends.
#Poll: Are you in the midst one of the above marketing transformations?
Take the poll 
#FGStory: South Africa's Hemp Hotel is the Tallest Building Made of 'HempCrete'
The Hemp Hotel is world's tallest building made of industrial hemp and is set to open in June in South Africa with breathtaking views over Cape Town's Table Mountain. At twelve stories tall, it is made of carbon-negative materials and will capture more carbon in the walls of the building than what was emitted to manufacture them. The HempCrete blocks from Afrimat are made from water, lime, a cement binder, and South African hemp. Along with selling to corporate clients, the blocks have also been used to build a number of social housing projects in South Africa and neighboring Mozambique.
#DidYouKnow: World's First Banner Ad
Did you know that the world's first ever banner ad was launched in 1994? It was part of a digital advertising campaign by AT&T promoting its 'You Will' campaign. It appeared on the website HotWired.com (now known as Wired.com) and had a simple message: "Have you ever clicked your mouse right here? You will". By clicking on the banner, users were taken to an AT&T landing page, marking the beginning of a new era in digital advertising. This small banner ad paved the way for the today's online advertising industry.
Took a photo that you are proud of?
Send it
along and our team will select amongst those submitted to be featured in our next newsletter.