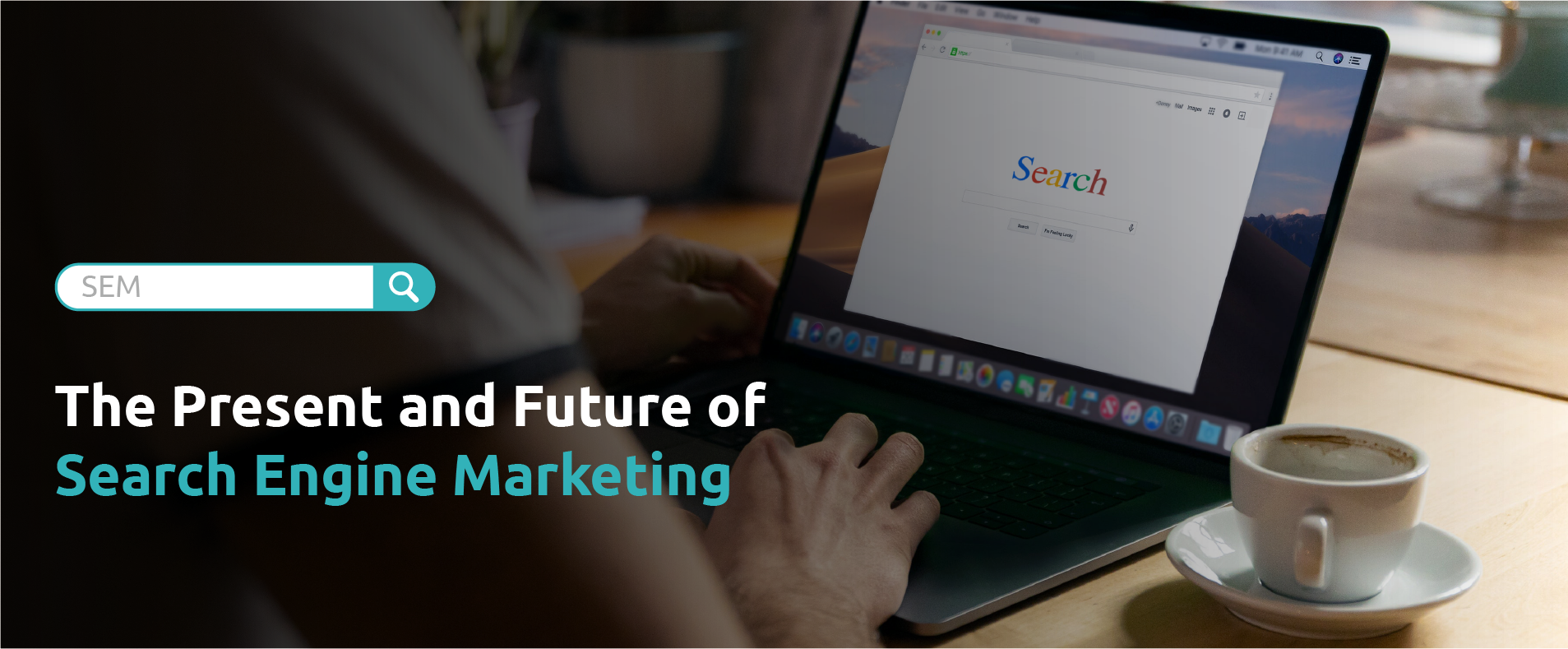 July 7, 2021
Since it was made commercial in 1995, the internet has become home to roughly 400 million active websites. Whether for personal purposes or commercial efforts, the internet offers countless platforms for user consumption. However, with such a vast assortment of websites to choose from, surfers would have been lost without a way to search. Various search engines, such as Google and Bing, have been developed to solve the inability to pinpoint the digital content users are looking for on the internet. With millions of web pages battling answer consumers searches, what can businesses do to strategically position themselves at the top of the list? The answer is Search Engine Marketing or SEM.
What is SEM?
SEM is a digital tactic employed by businesses to influence search engine results and increase specific website visibility. Once used as an umbrella term for both organic and paid organic traffic, SEM has now shifted to specifically reference ads, with search engine optimization (SEO) used for unpaid content. While SEO is the process of creating content to appeal to the complicated algorithms used by search engines, SEM is a more direct approach in which businesses use a combination of monetary bidding and carefully-curated content to win high rankings on search pages. SEM can be employed on various search engines however, Google dominates due to the resounding popularity of the platform and the size of its Ads services – roughly 2x greater than the next highest competitor, Bing. With the majority of a website's traffic deriving from search engine results, businesses need to leverage SEM as a tool to increase visits and drive leads. Furthermore, one of the most prominent advantages of SEM, for both B2B and B2C companies, is that it places businesses directly in front of motivated customers at the exact moment they are seeking a product or service.

How to do SEM well:
It is imperative to understand the way SEM works. SEM is not as simple as purchasing the prime spot in search results, there are many practices and trends that businesses should follow to achieve success. In essence, these campaigns leverage carefully-developed keywords to associate ads with search queries. Companies should begin by identifying the prominent keywords that relate to their business and the search queries they want to appear for. To do so, careful website evaluation is critical as is a review of popular keyword data to then draft ad text and prepare for the bidding process.
SEM bidding relates to the monetary aspect of this equation and refers to the auction whereby businesses set the price they are willing to pay for clicks on their ads. After companies identify their targets, budgets are allocated according to which keywords are most relevant and drive the most traffic. However, unlike a real auction, the highest bidder isn't guaranteed the winning result; quality also carries weight. For Google, ad ranking is influenced by the Quality Score (QS) it receives. The QS is comprised of two main characteristics: the ad's click-through rate (CTR), which is determined by the ratio of people who see the ad versus who click it, and its quality alongside the landing page, which is the website that users arrive at when engaging with an ad. Ultimately, with these characteristics, the QS should be regarded as how useful the ad is to whoever searched the keywords. With this in mind, to achieve success through SEM and maximize ROI, companies must ensure that their ads and landing pages are high quality and highly relevant to the keywords against which they choose to promote.
To contextualize the process of SEM, below is an example of a Best Buy Google ad campaign for cameras.

By targeting specific and focused keywords, selecting the appropriate landing page, and ensuring the ad was relevant to targeted consumer searches, Best Buy was successful in increasing their visibility.
Where is SEM heading?
By following these best practices, any business can compete with the best of the best. But to gain a competitive edge, one should consider SEM trends. As we work our way through 2021, there are many emerging consumer behaviors that will ultimately impact the future of SEM. Here are two observed trends that marketers should consider as they approach SEM in 2021:
1. Optimizing for Voice Search
According to Google, approximately 20% of search queries on tablet and mobile devices were made using voice searches through technology such as Google Home, Apple's Siri, and Amazon Echo, in the past year. 65% of users cite that this search method plays an essential role in their everyday lives. In 2021, studies have shown that up to 70% of searches will be completed by voice (GeoMarketing). This will lead to searches being conducted by conversational tone and long-tail keywords that often accompany voice dictation. As a result, marketers must adjust their strategies to incorporate more natural language – paying less attention to what user search for and more to what they ask.
2. The Rise of Videos
With the recent growth and emphasis on streaming services, it is projected that video content will hold great power in 2021 and beyond since consumers would much rather watch a video than read text (SEM updates). According to Cisco, by 2022, online videos will comprise greater than 82% of all consumer internet traffic. To take advantage of this trend in SEM efforts, it's recommended to embed 'how to' or product promotion videos within web pages to drive traffic, improve their CTR and increase QS.
For businesses looking to enhance their digital results through SEM, it's important to have a plan. While SEM can be conducted on self-serve platforms such as Google Ads and Bing Ads, many businesses wisely choose to hire an agency such as Zenergy Communications to develop the best overall strategy, confidently select the strongest keywords, and allocate appropriate budgets. With 18 years of experience delivering success for clients, Zenergy can assist in planning, executing, and monitoring SEM campaigns. While the internet may be a vast place, through SEM, businesses can make sure they don't get lost in the chaos.
Interested in learning more about how SEM can benefit your business?
Send us an email at: info@zenergycom.com.
Written by TORI BURROWS for © Zenergy Communications (North America) Inc.